In a Facebook thread, the topic of cilantro came up....so I decided to address this issue from my point of view.
When it comes to cilantro, a little bit goes a long ways!
As shown in the abstract below, some people love it and some people don't, and you can blame it on your genetic makeup.  Plain and simple, right? 
My son can't eat it at all.  His throat closes.
I consider myself to have a very eclectic taste, in clothing, house furnishings, accessories and food...and I can categorically say, I don't like it.  I can eat a little bit of it without (excuse the mental image) gagging, but the problem is that those who like it, seem to think that more is better and don't seem to understand the word m o d e r a t i o n. 
When recipes call for cilantro, I usually substitute with parsley, watercress, or mint (which green to use depends on how compatible it will be with the food), but in very few instances will I add cilantro to anything...and when / if I do, I will add scant amounts.
I wish people who like it would not insist on adding it to the food before serving it.  I would prefer to be given the option to use it or not...as it is, when served, I end up picking out as many individual little bits of it as I can and feel very self conscious when I do it.
As a friend said on the Facebook thread, "If it's got cilantro on top...I pick off every sliver I can before I ever start eating.  If it's mixed in, never mind, there is surely something else I can eat ;-)"  
A few months ago we attended an event where lunch was served; on the menu were two different and gorgeous salads - they were served in two huge bowls, and my mouth was salivating until I noticed the hostess adding bunches and bunches of chopped cilantro to both bowls!  It was not my place to mention it, but knowing how some people react to the herb, I would have thought it better to serve it on the side and let those who like it take as much as they wanted or leave it out of at least one bowl.
Cilantro has some beneficial medicinal value, but too much of it can be bad for your health.  I don't want to be like Chicken Little and scream the sky is falling, but when not eaten in moderation, cilantro can cause all kinds of health issues.
Too much and too often can cause liver damage, can make your blood pressure plummet too low, it can cause light-headedness, it can upset the stomach and cause diarrhea. 
Some people with respiratory problems can develop breathing problems and can lead to chronic lung diseases like asthma.  Chest pains are not a common result, but it can happen; sometimes the shortness of breath caused by too much cilantro can also dry and close your throat.
Besides all of the above, some people can develop skin problems, allergic reactions, oral inflammation and yes, it can even cause fetal damage when too much is eaten during pregnancy.
So...my advise to all, is please, whether you're a chef in a restaurant or a host/hostess inviting friends at home, let the diner choose whether they want to consume it.  Don't add it to the food.  Serve it on the side!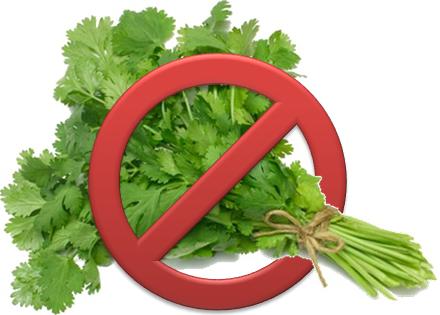 Abstract via Nature News
The leaves of the Coriandrum sativum plant, known as cilantro or coriander, are widely used in many cuisines around the world. However, far from being a benign culinary herb, cilantro can be polarizing—-many people love it while others claim that it tastes or smells foul, often like soap or dirt. This soapy or pungent aroma is largely attributed to several aldehydes present in cilantro. Cilantro preference is suspected to have a genetic component, yet to date nothing is known about specific mechanisms. Here we present the results of a genome-wide association study among 14,604 participants of European ancestry who reported whether cilantro tasted soapy, with replication in a distinct set of 11,851 participants who declared whether they liked cilantro. We find a single nucleotide polymorphism (SNP) significantly associated with soapy-taste detection that is confirmed in the cilantro preference group. This SNP, rs72921001, (p=6.4e-9, odds ratio 0.81 per A allele) lies within a cluster of olfactory receptor genes on chromosome 11. Among these olfactory receptor genes is OR6A2, which has a high binding specificity for several of the aldehydes that give cilantro its characteristic odor. We also estimate the heritability of cilantro soapy-taste detection in our cohort, showing that the heritability tagged by common SNPs is low, about 0.087. These results confirm that there is a genetic component to cilantro taste perception and suggest that cilantro dislike may stem from genetic variants in olfactory receptors. We propose that OR6A2 may be the olfactory receptor that contributes to the detection of a soapy smell from cilantro in European populations.
Dangerous side effects of cilantro